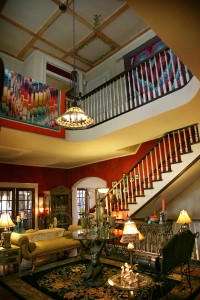 Join Marilyn Doheny in her new home, Marilyn's Historic Melrose Inn in North Carolina. She is fulfilling her dream of having a great place for quilting retreats!
Historical Setting
Marilyn bought the historic Melrose Inn in November 2009 and moved from Seattle to Tryon, NC in January 2010. You too can have a dream come true for yourself by attending and learning some of Marilyn's secrets to successful and beautiful quilting! The Melrose Inn is a very old building, built in 1889, with 123 years of history, personality, and charm. Marilyn has been extensively repairing, renovating, and decorating it to make her lifetime vision a reality!
For more information or to register for a quilt retreat, click here.
Enter your information to receive detailed retreat information and retreat schedules and updates sent to your inbox:
Personal Note from Marilyn
2017 Retreat Schedule
Dear Quilters,
I am thrilled to offer exciting days for my "Over The Top" week long quilting retreats! Register soon as retreat enrollment is limited to 10 people per retreat.
The current schedule for 2017 is:
April 1-7, 2017
June 3-9, 2017
August 19-25, 2017
Oct 14-20, 2017
I want maximum time with everyone and maximum space for everyone to create abundantly – decadently! I also highly value leisurely meals and opportunities for sharing with one another to enrich our experiences. I want each retreat to be the most memorable quilting event you will ever have!
If you have a particular date that you or your guild or your friends would like, please let me know; I will be glad to schedule a retreat for your group.
I have made another exciting decision to enhance all of the retreats.
I am offering every one of my magnificent 9 Degree Circle Wedge Ruler classes, at the same time! Every student will make every possible wedge design, creating 15-22 different fans. Then each student will use their fans as desired, with my assistance, guidance, and direction; everyone will customize their retreat to meet their individual preferences!
The supply list is the same for creating the assorted fans…the supply lists get more detailed when you decide how you prefer to use the fans, as a collage, or flowers, or butterflies, or critters! It is not necessary to choose between Spectacular Fan Sampler, Instant Garden – Just Add Fabric, or Critters! You can use your fans to do anything you prefer or even all three topics!
If you have any questions – and you will – feel free to contact me at support@marilyndoheny.com. Please put – URGENT STUDENT QUESTIONS – in the subject line.

Ready to register? Click here.
And remember this quote, "If you are not having fun, then you are not doing it right!"
Fondly,
Marilyn Doheny